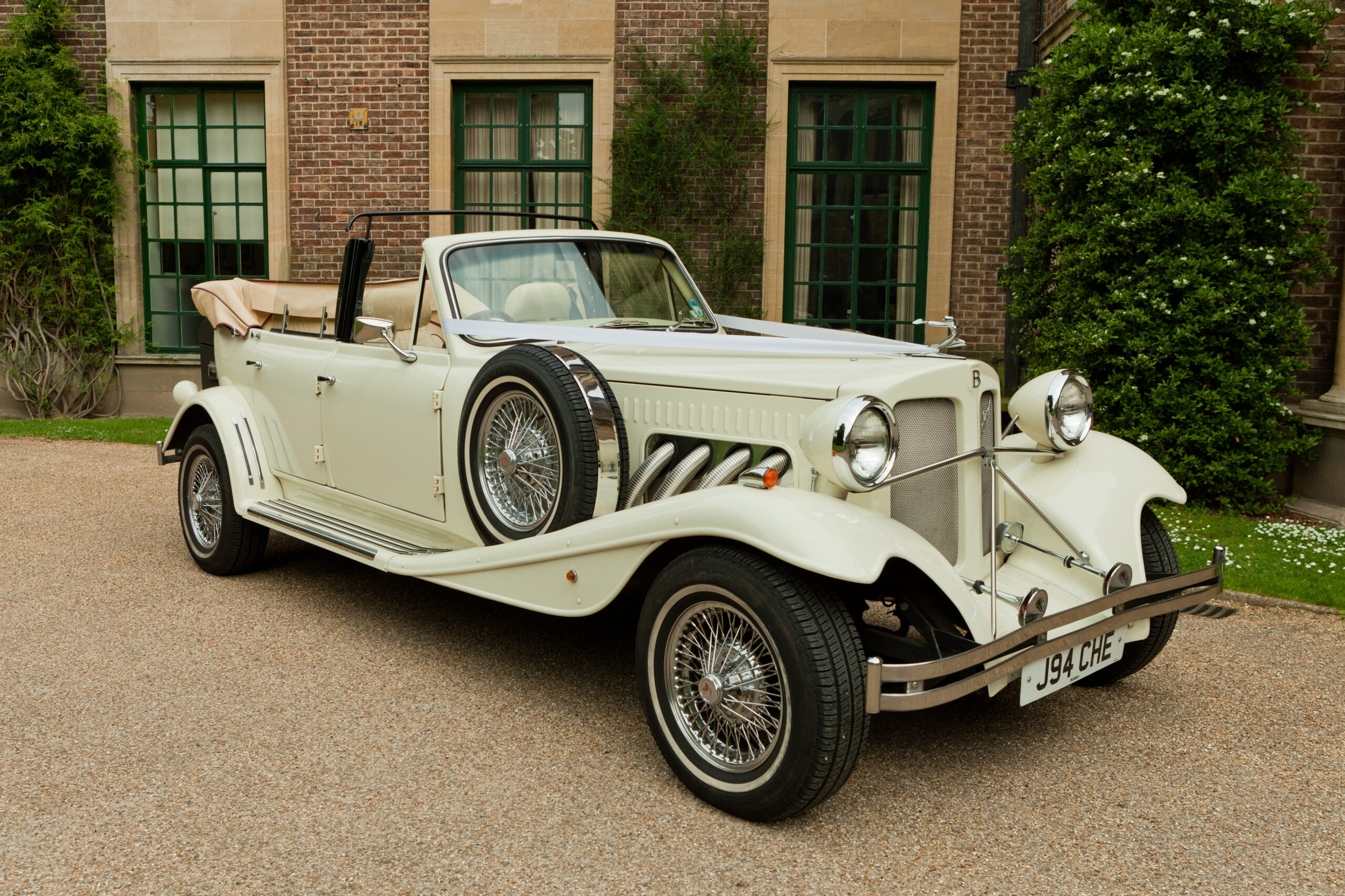 At AA Executive Cars we pride ourselves on the level of service we provide – and we use the term 'luxury wedding car hire' to refer to more than just our incredible cars.
Every aspect of our service is undertaken with your enjoyment and comfort in mind – and we always go the extra mile to ensure you receive unrivalled service and attention during your special day. With all that's going on during the morning of your wedding we take the stress out of getting to the ceremony – and you'll arrive on time (or traditionally late if you prefer!) and in ultimate style.
With so much emphasis on the wedding cars themselves, our chauffeurs always do their very best to help calm the wedding nerves, and will always be uniformed, smart and courteous throughout your luxury wedding car hire from AA Executive. You can sit back and enjoy the ride, and once the ceremony is complete you're welcome to pose for photographs with our vintage cars before being whisked away to your reception with a glass of champagne if you wish to have this.
As an additional service we can round off your wedding day by taking you to the airport/hotel in style – it's a perfect way to start your honeymoon and treats you to another luxurious trip in one of our stunning limousines. Talk to us about tailoring a package of vintage wedding car hire for your special day – we'll be happy to discuss your time frames and destinations with you, as well as provide any advice and information you need about any of our cars or car hire services. We operate from Sidcup & Maidstone and cover Essex, Kent, Surrey, Sussex and Greater London too.
Enjoy your wedding day, and let us play our small part in making it the happiest day of your life – click through to our Online Booking Form now or visit our Contact page to get in touch
Book Online
18th December 2021 10th July 2021 9th June 2021 26th September 2021 15th February 2020 25th August 2019 Denise – 10th August Georgina & Silas – Saturday 2nd February 2019 Erik Lisa & Luna Lloyd – 8th September Daniel Hyslop – 13th October 2018 Debbie and Brian Mahoney – 18th August 2018 Emma & George Burke Kate Curling Sue Smisson Charmaine Armstrong Marcus & Isla Paul and Sarah Pam and Alan Russell Charlotte & Mark Colin Browning Marian Nicolson Martin & Libby Lucy & Craig Chambers Kate Caroline and David Sarah Stav and Elena Lucy and Jon Bowman Guy & Sarah Head Tracey and Devan Gray Janine Niaz Hussain Diane Chris Liam & Philip Alexandra and Peter Symonds Donna Wickham Jenny Goodman Mr and Mrs Mclaughlan Yien & Kwok Wai Wong Mr N & Mrs V M McCreath Helen Ward Lin Foster Lucy and James Sanchez Lynda Paula Knight Annabel