Wedding Car Hire in Bromley
At AA Executive Cars, we've been providing exceptional luxury wedding cars for brides and grooms in Bromley for over 35 years. There are several beautiful churches in the area and the Bromley registry office plays host to many a wedding day.
There are also a fantastic variety of stunning reception venues in the area to choose from so that you can give your special day the celebration it deserves. Whether you want a vintage wedding or something more contemporary, there'll be something for you in Bromley.
The historic market town of Bromley is full of character and history. The town forms part of the South-West area of Greater London and is situated just far enough outside of London to benefit from the picturesque greenery of Kent, whilst still having great transport links to the city.
Its location between London and Kent makes Bromley the ideal spot for your big day. Bromley is easily accessible by car if you live in Orpington, Beckenham or any other neighbouring town. Alternatively, you and your wedding guests can get there by train if you're travelling from further afield.
Bromley is also one of London's most significant retail districts, making it the perfect destination when you're shopping for your wedding essentials. If you do choose this stunning town for the location of your wedding, make sure it's extra special by selecting one of our luxury wedding cars in Bromley.
Vintage & Luxury Wedding Cars For Hire in Bromley
If you're planning on getting married in the historic market town of Bromley then let our experienced wedding chauffeurs get you there in style. On your wedding day, you'll want everything to run as smoothly as possible, and here at AA Executive Wedding Cars, we can make that happen.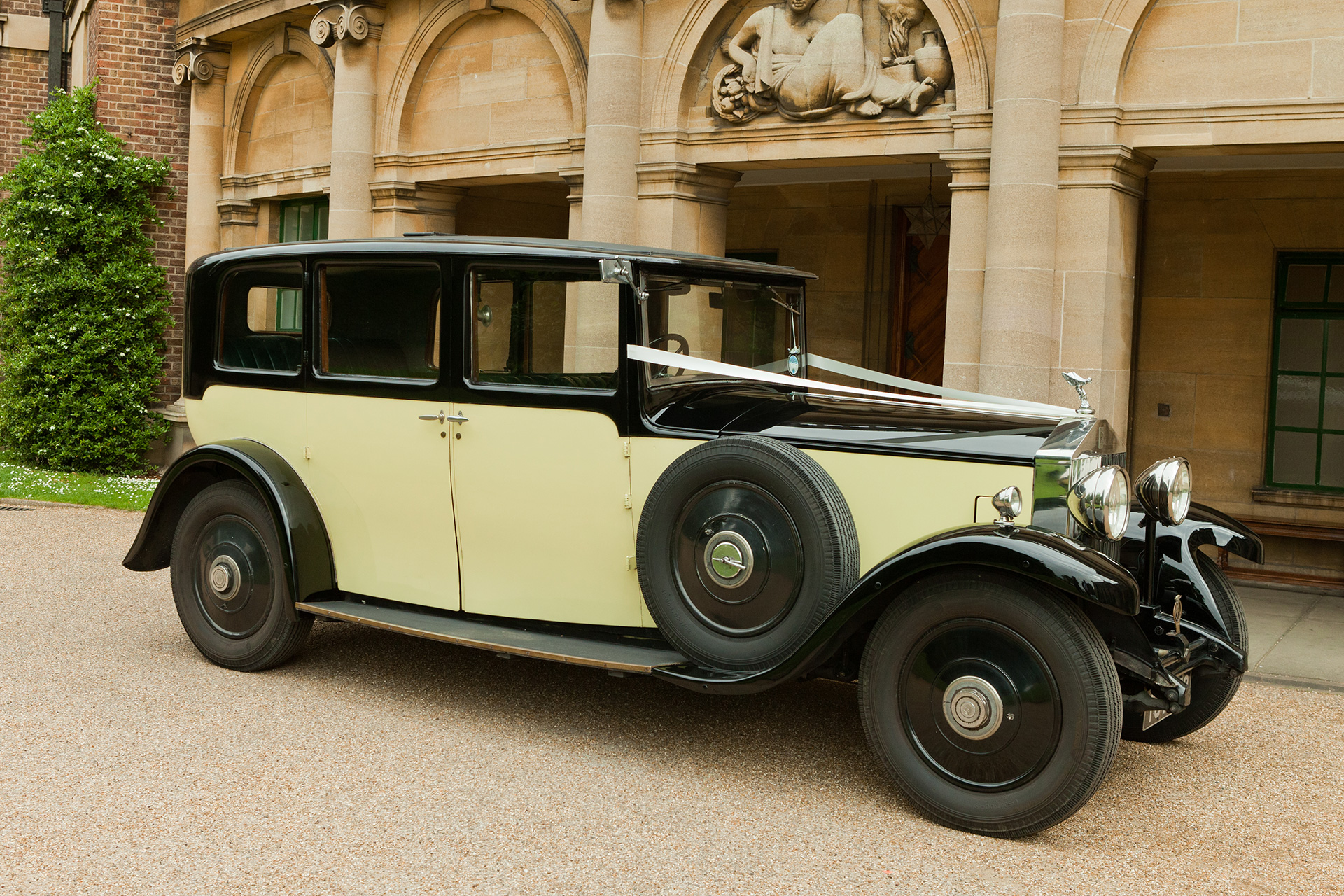 Choose From a Selection of Classic Cars
From our 1930s Rolls Royce Limousines to our Rolls Royce Silver Cloud MKII and 90s Mercedes S Class, you'll find a classic wedding car to suit your budget and tastes. If you need a certain colour to match your wedding decor, we can accommodate your needs, with vehicles available in a selection of colours including white, silver, and navy.
Some of the other iconic vintage wedding cars you can hire includes:
Convertible 1930s style Beauford
Convertible 1930s style American Ford Roadster
1998 Mercedes S Class
1930 Austin Laundaulette
Wedding Transportation from the Experts
Our wedding chauffeurs will provide you with top-level professional service every step of the way to ensure you arrive at the venue on time and feeling relaxed. Our drivers have many years of experience and will always do their best to calm your nerves – whether it's with a glass of champagne or just some words of wisdom!
Impress your guests with your choice of wedding transport; get in touch with us today to organise your wedding car hire in Bromley, get a quote and make your booking.
Book Now
18th December 2021 10th July 2021 9th June 2021 26th September 2021 15th February 2020 25th August 2019 Denise – 10th August Georgina & Silas – Saturday 2nd February 2019 Erik Lisa & Luna Lloyd – 8th September Daniel Hyslop – 13th October 2018 Debbie and Brian Mahoney – 18th August 2018 Emma & George Burke Kate Curling Sue Smisson Charmaine Armstrong Marcus & Isla Paul and Sarah Pam and Alan Russell Charlotte & Mark Colin Browning Marian Nicolson Martin & Libby Lucy & Craig Chambers Kate Caroline and David Sarah Stav and Elena Lucy and Jon Bowman Guy & Sarah Head Tracey and Devan Gray Janine Niaz Hussain Diane Chris Liam & Philip Alexandra and Peter Symonds Donna Wickham Jenny Goodman Mr and Mrs Mclaughlan Yien & Kwok Wai Wong Mr N & Mrs V M McCreath Helen Ward Lin Foster Lucy and James Sanchez Lynda Paula Knight Annabel